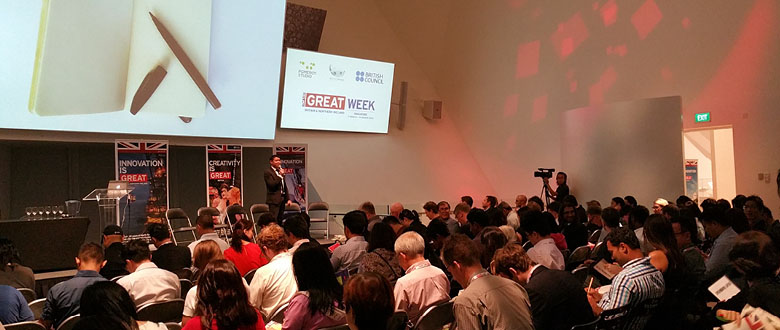 Six eminent personalities from the Worlds of architecture, television, music and cuisine gathered at Art Science Museum, Singapore, to discuss creativity and the role it plays in today's increasingly homogenized world. Organised by the British Council and Art Science Museum, and curated by Pomeroy Academy, these leaders of their craft provided unique and exciting insights into the creative process. Hosted by eco-architect, Prof Jason Pomeroy, the event took place on the 11th March 2015 and formed part of GREAT British Week 2015.
Inside the Creative Mind: Connecting Culture and Innovation through Cities
On the 26th January, I had the pleasure of hosting a 'virtual / physical' fireside chat with luminaries that included H.E Kara Owen, British High Commissioner to Singapore; Lim Teck Yin, CEO of Sport Singapore; Dr Kayla Friedman, Course director of the IDBE programme at Cambridge University and Stephen Pimbley, Award-winning architect and founder of Spark architects. In the same vein as my web series 'Inside the creative mind', we discussed what culture and innovation mean to them in the context of the cities in which they live.
Happy viewing!
Inside the Creative Mind : Tim Stonor
In this instalment, I have a conversation with Tim Stonor: an urbanist, academic and director of Space Syntax: the evidence – based urbanists who use pedestrian modelling software as a tool to shape the places and spaces that we know and love. Happy watching!"
Inside the Creative Mind : Dr. Kayla Friedman
'Inside the Creative Mind' – a series of candid interviews with designers and thought leaders of sustainable built environments. In each episode I explore what makes them 'tick' and gets them out of bed in the morning! First up is Dr Kayla Friedman: an academic and course director of the Interdisciplinary Design for Built Environment Programme at Cambridge University. Happy watching!"